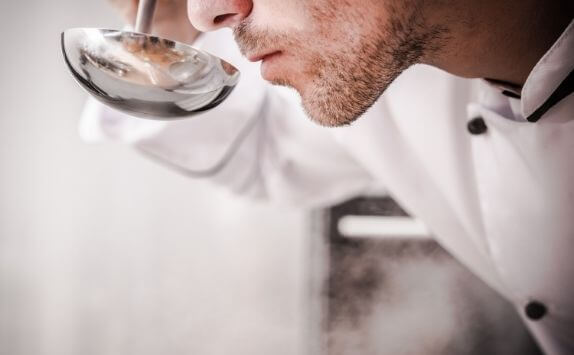 Sensory Evaluation of Food Products
Senses behaviour: Human body has 5 organs that help us in the process of sensorial assessment of a food product. These are (1) Eye – senses colour, surface and shape (2) Nose – senses taste, odour, aroma (3) Tongue – senses surface, taste, elasticity, hardness, roughness, crispness (4) Finger –surface, shape, elasticity, hardness, roughness, crispness and (5) Ear – crispness. A food product is evaluated based on these 5 organs Sensorial assessment has to be carryout by a trained/experienced person.
To become a tasting panel member, the person should be a nonsmoker, should avoid harsh foods and alcoholic drinks that affect the taste buds on the tongue and should have had food at least 2 hours before tasting. There are certain personal restrictions that the taster has to impose upon himself—positive attitude, self-critical approach, good sensory memory, accuracy, concentration etc. These help in ensuring that the job is well done.
There are different methods for sensory evaluation.
(1) Triangle Test—in which 3 coded samples are given and the member has to identify the odd one out
(2) Duo – Trio comparison- in which the reference sample is to be identified
(3) Paired comparison – in which 2 coded samples are to be identified
(4) Paired preference — in which 2 coded test samples are to be identified
(5) Hedonic expression – in which the facial expression indicates liking very much to not liking at all
(6) Hedonic 9 point scale – in which the taste sense is graded on a scale of 1 to 9 example any sensorial taste like bitterness is marked as mildly bitter to extremely bitter
(7) There is a method of drawing up the sensory profile in which the qualitative and quantitative analysis of a taste is graphically drawn leading up to a spider web pattern. The flavour attributes covered include first bite, spiciness, saltiness overall flavour, oily etc. and the texture attributes like melt in the mouth, easy to swallow, crispiness, hardness, sticks to mouth etc.
Sensory evaluation has a major role to play in product development. At each stage of the product development when there is a change in the formulation, the taste, as well as the sensory properties, change. These need to be evaluated and arrive at an acceptable profile of the product taste. The developed product has to be evaluated by the internal tasting panel and the general consumer. This evaluation also has to take into consideration the shelf life. At each stage of the shelf life, the product changes physical and chemical properties and so at each stage of shelf life the product has to undergo sensory evaluation and if found defective then the formulation will have to be modified.
Let us now look at the sensory profiles of a few food products. One such example is Chocolate. It has complex sensory properties; it is sweet, milky, cocoa, glossy, mellow, smooth, quick to melt, cooked and morish. The morish sensation makes the consumer ask for more and this originates in the cooking of sugar and milk and is present where these two ingredients are cooked. Another product is Biscuit. It should be crispy, fresh, wholesome. The sensory profiling of ice cream is creamy, morish, smooth, non-grainy, flavour aroma as per the name. Similarly while evaluation of boiled sweets, it should be hard or chewy, depicts typical ending on the product, non-grainy, not harsh and pleasant. Similarly, each product should have taste characteristics and should be identifiable by the taste regarded as is.
So that a product to be found to be satisfactory and suitable for general consumption, it has to meet certain requirements. These are sensorial parameters, quality parameters, chemical, physical and microbiological parameters, shelf life and packing. In case the parameter in any of the requirements is found unsuitable then the product cannot be released for general consumption.
Array
Keva has an extensive flavour shop for various food and beverage applications, besides a team of expert flavourists and food technologists for creating custom flavours and matches. To partner with us, contact Keva today.

Blog Archive
2021
August (1)
2020
September (1)
August (1)
March (2)
February (2)
January (3)
2019
October (1)
July (1)
May (1)
March (2)
February (2)
January (1)
2018
September (1)
July (1)
May (1)
April (2)
March (2)
February (2)
January (2)
2017
November (2)
October (2)