Applications of Flavours and Food Regulations
Flavours are an inseparable part of food products and since most of the time it is the only factor that makes a product different from other. There is a lot of curiosity in the minds of consumers to know what flavours are. Today's health-conscious consumer would want to know all that goes into their food and whether all of it is approved by the food regulations. The answer is 'Yes'. The Food Safety and Standards Authority of India (FSSAI) is the apex regulatory authority for Foods in India, be it any food product or food additives they need to follow the standards and restrictions placed in FSSAI.
Flavours as such have a technical function to play in food, which is to provide organoleptic function. Thus, flavours are in the category of Food additives as per FSSAI regulations of India. Food additives are substances which are not normally consumed as food but are intentionally added to food for a technological (including organoleptic) purpose. Thus if we refer to the definition, it states Flavouring agents are Food additives as they are intentionally added for organoleptic purposes.
Since additives cannot be added more than what their function requires them to do, thus there is not a range of limit set for adding them to food, as a lower or higher quantity added would not meet or defeat the purpose of its addition. For example, flavouring agents, if added in lower quantity than needed would not give the taste and would be itself lost in the food matrix, however, a higher quantity would also be not acceptable as our senses would not accept that taste. Thus, the best is to add it to the needed quantity, which is Good Manufacturing Practices (GMP). When we look at the quantities of flavourings actually added to any food product, they are 0.1-0.5% of the entire food, thus speaking in simpler terms it is 1-5gm of flavouring in 1Kg of product.
What does the FSSAI Regulations state about the use of Flavours in Food?
As per the Food Safety and Standards (Food Product Standards and Food Additives) Regulations, 2011, the flavours that are added to food items should comply with Good Manufacturing Practices (GMP). To meet the GMP requirement the following must be ensured:
The added flavour must be the least amount possible to accomplish its desired effect
Added flavour should become a component of food as a result of its use in manufacturing, processing or packaging
Added flavour should be treated in the same way as the food ingredient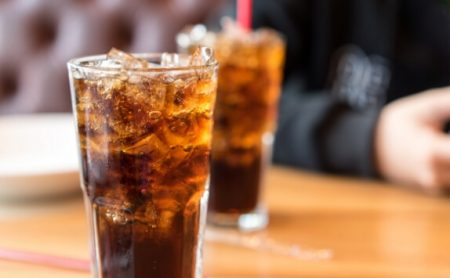 Once we are satisfied that flavourings are accepted to be added to foods at GMP levels, let us see which all product categories can we added flavourings to. Most of the Beverages are flavoured like:
Flavoured Water
Herbal water
Water-based flavoured drinks
Fruit and Vegetable Juices
Fruit drinks
Carbonated Beverages & carbonated Fruit beverages
Caffeinated Beverages
Sports and Energy drinks
When we talk of beverages, we also refer to Tea and the most consumed beverage, however, FSSAI regulation states that tea, Kangra tea and green tea can also contain added flavours such as 'Natural Flavours' and 'Natural Flavouring Substances'. However, flavoured tea manufacturers must register themselves with the Tea Board before marketing flavoured tea. When we think of beverages, there is a near category that comes to our mind which is of syrups. Synthetic syrup or sharbat may contain permitted flavouring agents.
Dairy products are also available in a variety of flavours, some dairy products that are approved to contain flavours are:
Flavoured milk
Flavoured yoghurt
Dairy-based desserts/confections (Ice Cream, Kulfi, Chocolate Ice Cream or Softy Ice Cream)
Bakery products also have a high variety of flavours. Bakery Products may also contain flavours at GMP levels such as:
Biscuits
Cakes
Cookies
Premixes
Confectionery products are also among the most flavour containing categories and it is more popular due to its acceptability among the youngsters.
Chocolate
Sugar boiled confectionery
Chewing gum/ Bubble gum
Savouries and snacks are approved by regulatory to contain added flavourings. Ready-to-Eat savouries include all types of savoury snack foods such as
Snacks of potato, cereal, flour or starch based (from roots and tubers, pulses and legumes) include all savoury snacks
Flavoured crackers
Meat products such as the following can be smoked and flavoured with natural flavours and nature identical flavours
Canned Luncheon Meat
Canned Chopped Meat
Canned Cooked Ham
Some of the other categories that are allowed to contain flavours are
Edible oils and Fats: Table margarine and fat spreads can contain flavouring substances
Fish and Fish Products such as Canned finfish, canned sardines, canned Tuna and Bonito can contain natural flavours and Natural Flavouring Substances at GMP
Many more categories are allowed to contain added natural, nature identical and artificial flavourings that we have not covered in this article, for more details kindly visit Food Safety and Standards Regulations.
Array
Keva has an extensive flavour shop for various food and beverage applications, besides a team of expert flavourists and food technologists for creating custom flavours and matches. To partner with us, contact Keva today.

Blog Archive
2021
August (1)
2020
September (1)
August (1)
March (2)
February (2)
January (3)
2019
October (1)
July (1)
May (1)
March (2)
February (2)
January (1)
2018
September (1)
July (1)
May (1)
April (2)
March (2)
February (2)
January (2)
2017
November (2)
October (2)