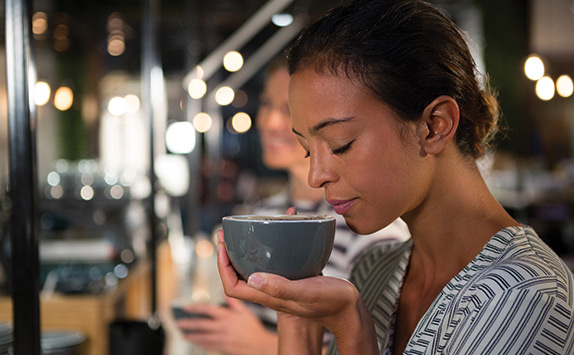 Flavour and sensory perception
Flavour is paramount in an individuals' development of likes and dislikes towards food products. Flavors are characterized by the presence of top, middle and base notes. The crisp, sharp, effervescent and noticeable aromas that you notice first are top notes. Fruity aromas such as citrus, berry, pear make up the top notes. Binding the top notes with the base notes are the middle/heart notes that appear after the burst of the top notes. The warm, soft floral aromas or the mild spicy scents of lemongrass and nutmeg give body to the final flavour. Base notes linger long after the top and middle notes disappear. These heavy, intense and long-lasting aromas typically found in spices such as clove, ginger, cinnamon are known for their long-term bouquet in a product.
Flavour consists of taste and odour and thereby involves gustatory and olfactory responses. Taste is defined by five descriptors namely sweet, salty, bitter, sour and Umami and its reception involves interaction with taste buds on the tongue. Different regions of the tongue detect different taste sensations, such as the tip of the tongue recognizes sweet taste while the back detects bitterness. Odour, on the other hand, is the result of flavour volatiles entering the nose either through orthonasal(sniff) or retronasal (mouth) routes and then binding olfactory receptors in the nasal epithelium.
Now that we understand the basic science behind flavour detection, let us try to understand how this essential tool leads us to develop an affinity towards our favourite flavoured food product. Life would no doubt become rather mundane if one had to eat only vanilla ice cream every day. The 100s of flavours of ice-creams available give variety and spice to our life. The choice of flavour often reflects our mood or inversely our mood is shaded by the flavour we choose. Chamomile and vanilla no doubt bring calmness at the end of a tiring day while chocolate and strawberries can spark our romantic side. As we dig into the tub of ice cream, seldom as we contemplate the integration of multiple senses that bring about the pleasured experience of eating.
Not only do we use our sense of smell and taste, but also visual, auditory and touch play a significant role in flavour perception. Experiencing flavour is a multisensorial process. On a lazy summer afternoon, when the hunger pangs hit their peak, the whiff of dal tadka can make the most sluggish souls head towards the kitchen. Your hunger combined with the aroma of tadka lead to salivation and your mouth becomes ready to accept the food. What senses did you use in the above exercise? Olfactory or sense of smell is an important component of your flavour journey. Research shows vision plays a critical role as well. Food served on white plates scored higher on sensory charts than the ones on dark plates. The spatial arrangement of food on a platter also affects our liking for the food and thus has a role in our sensory perception of food. It is no surprise then that most decent restaurants use white plates and give special attention to food arrangement on these plates. Vision also helps us accept and accentuate a perceived flavour. For example, when you order a pista ice-cream, the green colour of the product matches and elevates your expectation and a blue colour pista ice-cream will seldom match this experience. Texture, temperature, sound etc. are other sensory perceptions that play a significant role in the acceptance of a flavour and thus the product.
Our liking and aversion for flavours also depend on our prior exposure to the food products. There are many amongst us who turn away from a platter of olives or goat cheese. Repeated exposure to a flavour results in 'acquired taste' and it is no surprise that some people start regularly incorporating products that they once hated. However, it is vital for us to listen to our aversion and dislikes as there could be a larger picture involved. Pregnant women often develop aversions to certain food flavours in response to hormonal changes and resulting nausea. Similarly, people with certain allergies often find themselves resisting some food products. Many individuals often dislike bitter taste as the flavour results from compounds that prevent animals from foraging on these plants. In fact, a recent study went on to establish the toxicity of compounds present in bitter gourd along with remedies for the ensuing poisoning. No wonder you stayed away from your mom's 'stuffed karela' despite hearing about its miraculous cures!
Our ability to detect and perceive flavours is not uniform. Some people have more than ten times the amount of taste buds as a normal individual and these people are 'super-tasters'. They detect flavours in minuscule amounts and can differentiate between minor changes in formulations. Such individuals are taken as sensory panellists for reputed industries as it is well known that sensory analysis forms the basis for every successful product launch.
Array
Keva has an extensive flavour shop for various food and beverage applications, besides a team of expert flavourists and food technologists for creating custom flavours and matches. To partner with us, contact Keva today.

Blog Archive
2021
August (1)
2020
September (1)
August (1)
March (2)
February (2)
January (3)
2019
October (1)
July (1)
May (1)
March (2)
February (2)
January (1)
2018
September (1)
July (1)
May (1)
April (2)
March (2)
February (2)
January (2)
2017
November (2)
October (2)