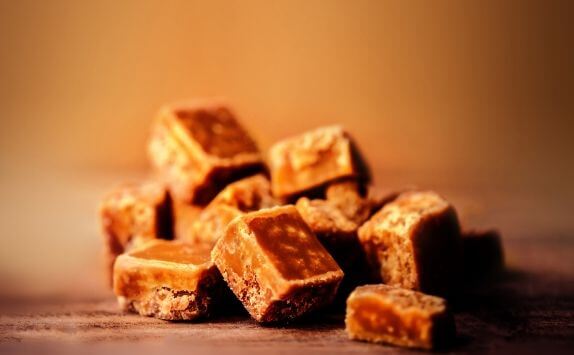 Caramelization Reaction in Browning
Have you ever wondered how sugar turns into delicious caramel when heated? Have you ever noticed how the crust of bread turns brown when baked? Have you ever thought how white potato turns brown when fried? The reason behind this magic is a browning reaction or, Maillard reaction. Browning reactions are very well known for the development of the brown colour in food products. It can be either enzymatic browning or non-enzymatic browning depending upon presence or absence of the enzyme polyphenol oxidase. Maillard reaction and caramelization are two major players in non-enzymatic browning. Here we will focus more on the contribution of caramelization reaction in browning.
Caramelization reaction is oxidation of carbohydrates or sugar resulting in the development of the brown colour and caramellic flavour when heated at high temperature. The temperature of reaction depends on the type of sugar present in the food. So sucrose & glucose caramelises at 160°C while fructose caramelises at 110°C. Caramelization reaction is regarded as non-enzymatic browning as there is no involvement of any enzyme. The impact of this reaction can be easily seen in products like caramelised sugar, toasts, baked bread, deep-fried French fries, toffee, caramelised vegetables, etc. One cannot even imagine how we could be able to enjoy these famous cuisines without caramelization.
The process of caramelization starts with the melting of sugar followed by boiling which is also known as foaming. Later water is pulled out from sugar by a condensation reaction. Then in next stage isomerisation and dehydration comes into the picture where intermediates are formed. In the last stage of caramelization, fragmentation leads to the generation of brown flavour while polymerisation leads to the generation of colour. Here excess cooking of sugar results into a bitter taste of caramel lacking its sweetness.
During caramelization, polymers like caramelans (C24H36O18), caramelens (C36H50O25) & caramelins (C125H188O80) mainly contributes to brown colour of caramel. But along with colour, caramelization is also responsible for the development of volatile aroma compounds having a very pleasant caramellic flavour. In food preparations this flavour part is often underrated as compared to colour part. When sugar is degraded during dry heat cooking, its molecules break down and intermediates like osuloses which are α-dicarbonyl compounds give rise to aroma compounds of sweet, nutty, brown note. These aroma compounds include some esters having a sweet, fruity flavour then diacetyl having a buttery flavour and lactones having a sweet, fatty flavour. Apart from these compounds, furans like 5-hydroxy methyl furfural, 2-acetyl furan & furfural gives a sweet, nutty, bready flavour. Pyrones like 5,6-dihydromaltol, 5-hydroxy-5,6-dihydromaltol & maltol gives a sweet, caramellic, candy flavour. Whereas carbocyclic compounds like cyclopentenone, 3-methyl-2-cyclopentenone & 2,3-dimethyl-2-cyclopentenone gives a sweet, toffee or coffee flavour.
Studies are still going on for identification of more such compounds in caramelization. This aroma compounds can be isolated separately and further used as natural flavour ingredients or natural raw material. So next time when you consume any caramellic product you must thank caramelization.
Array
Keva has an extensive flavour shop for various food and beverage applications, besides a team of expert flavourists and food technologists for creating custom flavours and matches. To partner with us, contact Keva today.
Blog Archive
2020
September (1)
August (1)
March (2)
February (2)
January (3)
2019
October (1)
July (1)
May (1)
March (2)
February (2)
January (1)
2018
September (1)
July (1)
May (1)
April (2)
March (2)
February (2)
January (2)
2017
November (2)
October (2)