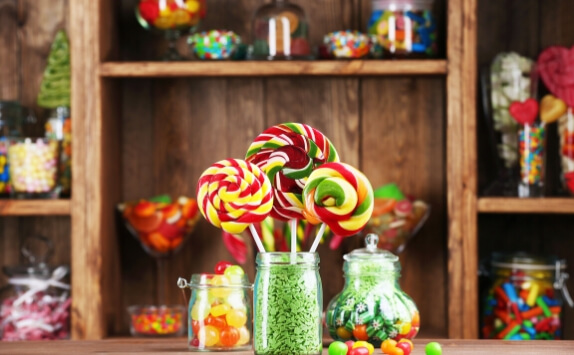 Confectionery as a category and Indian Market
It is tough to specify confectionery definition in the exact term. It is an art of making sweet items, that are rich in sugar and other speciality ingredients to make it more delightful and attractive in terms of texture, colour, taste and flavour. The others include liquid glucose, acids, colours, flavours, stabilisers, emulsifiers, fats, milk solids etc.
History of confectionery products dates back to 3000 years as per ancient Egyptian records. It is more interesting to understand about confectionery items as how traditionally people were making products without using specialised ingredients. Historically, human used sugarcane juice or honey as ingredients, concentrated at particular consistency for making different tasty products.
During modernisation, alternative ingredients got innovated with different techniques like hydrolysis, extraction, chemical reaction, and synthesis, which changed the game to the next level. Corn and starch became the key and integral part of ingredients manufacturing.
Different methods are there to classify confectionery products like sugar content, based on the format of products or based on the nature of products. Traditionally, we categorised confectionery as bakers' confectionery and sugar-based confectionery. All bakery products are bakers' confectionery which is a separate food product category altogether. So this classification does not seem to be valid on the commercial level. 
In the modern world, confectionery is categorised as sugar base, chocolates and Gums, considering commercial manufacturing methods and product profiling. There is another way to classify confectionery products under five heads, depending on the understanding of products and its ingredient contents. Here we are considering the broad classification of five instead of three-level classification. 
Sugar confectionery: In these products, sugar is an integral part. Examples include hard candy, toffies, fudge, fondants, jellies, pastilles etc.

Chocolate confectionery: In these products, chocolate or Cocoa is an integral part. Examples include dark chocolate, white chocolate, milk chocolate etc.

Flour Confectionery: Fancy baked cakes that are either iced or chocolate-covered. Examples include cakes, cookies, bars etc.

Traditional Indian sweetmeats: Wide range of Indian sweets. Examples include laddu, chikki etc.

Gums: Some believe that gum is a separate category in itself. Examples include bubble gum, chewing gum, pallet gum etc.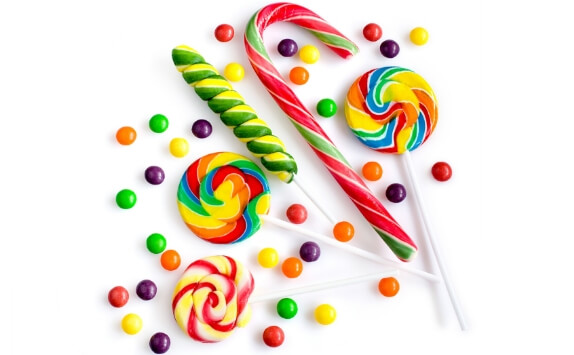 When we think about really how many products are available in confectionery formats, it is not a small category. One can find hundreds of different products in this category. Green Mango, Ripe Mango, Caramel, Orange, Strawberry, Tamarind, Coconut, Peanut, Litchi, Lemon, Paan, Vanilla, Mint, Berries are some of the top-selling flavours today in the Indian market in this segment. Due to various consumption patterns of sweets, India remains a huge potential market for confectionery. In modern India, the confectionery segment is not just limited to the kid's zone; it's slowly shifting to teenagers and adults also. Instead of a single flavour, a fusion of different flavours in this segment is more preferred for the novelty factor.
Hard-boiled confectionery with different formats continues to dominate the majority of the Indian market. Masala centre-filled candy attracts all age group. Green Mango, Guava, Orange, Litchi, Tamarinds are few familiar flavours available in the market. Liquid centre filled candy is also a promising innovation in the formed candy product profile. Single-layer and double-layer deposited HBC is also trending in the Indian market. In toffee format, ethnic flavours contributed very well followed by coffee, cardamom and strawberry. 
Chocolate with nuts and inclusions are considered a premium segment, which varies with the price range. Gum products like bubble gum and chewing gums are still regarded as a mouth freshener and are available with mint as well as mint and fruit combinations. Peppermint and double mint flavours are the most common. In the fruit category, Strawberry, Watermelon, Cola, Tutti Fruity, Mango, Berries etc. are some of the popular flavours in the Indian Market. 
The sweet industry is changing very rapidly due to the massive demand for luxury profiles, increased rules and regulation on labelling, new ingredient innovation, besides changing consumer perception and preferences. Food habits are also changing significantly, especially in Tier 1 and Tier 2 cities. Consumers are more conscious about health, consumption pattern and health claims on the products. So the demand for sugar-free, less sugar, organic is increasing day by day. People are thinking about sugar replacement and natural flavours to serve their requirements. 
No doubt, the future looks bright and sunny for the Indian confectionery market. It will be interesting to see as to how manufacturers continue to re-invent themselves to cope up with the rising expectations to fulfil demands of the market and drive product innovations to cater to those needs.
Array
Keva has an extensive flavour shop for various food and beverage applications, besides a team of expert flavourists and food technologists for creating custom flavours and matches. To partner with us, contact Keva today.

Blog Archive
2021
August (1)
2020
September (1)
August (1)
March (2)
February (2)
January (3)
2019
October (1)
July (1)
May (1)
March (2)
February (2)
January (1)
2018
September (1)
July (1)
May (1)
April (2)
March (2)
February (2)
January (2)
2017
November (2)
October (2)