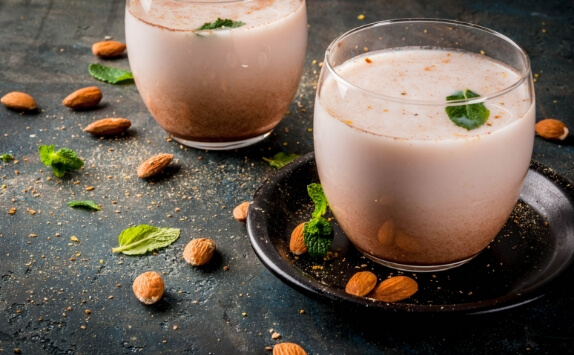 The rise of Dairy Alternatives
Lately, there has been a huge surge in dairy alternatives and more and more research is being focussed in this direction. Abstaining from dairy could be a result of health problems such as lactose intolerance, IBS or any other inflammatory diseases, or due to lifestyle choice such as being vegan or following alternative medicine systems that restrict such intake. Whatever be the reason, fast-food chains and coffee shops have reinvented their menus in response to the demand and have incorporated dairy alternatives such as soybean milk, almond milk, coconut milk, cereal-based milk. Plant-based milk is an excellent replacement for dairy milk and is often used in beverages such as tea, coffee, hot chocolate etc. or is even consumed by itself. However, while some of these products have an appealing flavour profile, others such as soy milk and cereal-based milk often have off notes and beany flavour. Flavour experts have overcome this hurdle by formulating drinks with unique flavour profiles that override these unwanted notes. Thus, from chocolate soy milk to strawberry almond milk, vegan enthusiasts have unlimited options.
As milk has been extensively replaced, so have the products that were traditionally made from milk. Table butter used on bread or toast as a quick snacking option has given way to peanut butter, cashew butter, almond and hazelnut butter that are packed with much more than empty calories and have a rich flavour profile. These kinds of butter have been mixed with cocoa powder and varied flavouring agents to yield spreads, chocolates and multiple confectionery items. Just as milk and milk-based fat spreads have been used as a matrix for fat-soluble vitamins, so have these alternatives. Any unwanted odour and adverse sensory profile from these added micronutrients are conveniently removed or altered through the formulation of optimally flavoured products.
Further, coconut, almond and cashew milk have been fermented into yoghurts and are being used by consumers as a source of daily probiotics. The distinct sensorial traits of these yoghurts mixed with real fruit and fruit flavours make them a highly popular breakfast and snacking alternative to dairy-based yoghurts. Yoghurts and plant milk have led the way to frozen desserts and ice cream analogues. Dessert snacking has never been more guilt-free, with the advent of low calorie, deliciously flavoured plant-milk based frozen delights. With less fat, lesser sugar, more protein and equivalent if not better texture and taste, these non-dairy alternative products have given tough competition to traditional dairy ice cream manufacturers.
Another important category of dairy alternative is cheese. Vegan cheese made from plant-based milk or yeast flakes is being actively used in culinary preparations that used dairy cheese. The lactic acid bacteria and added flavouring agents, mimic the acidity and flavour profile of milk-based cheese. Tofu or soy paneer has long replaced cottage cheese in curries, barbeques and on top of sandwiches and pizzas. Almond parmesan, cashew cream cheese and agar or tapioca-based cheese are few alternatives available for those wary of dairy. Additionally, yeast seasoning or yeast flakes are often used to provide the added zing to an otherwise flavourless vegan preparation. Yeast is known to possess umami flavour, a characteristic of meat preparations seldom found in vegetarian products, with exceptions being mushrooms, seaweeds and other less popular vegetarian products. Addition of yeast flakes to soups, gravies and other broths gives the creamy texture of cheese and develops the umami flavour loved by many. The yeast flakes offer an excellent alternative to umami flavour of cheese, highly sought after by compulsive non-vegetarians trying to cut cheese from their diet. Thus with a little imagination and correct sourcing, dairy alternatives can be thoroughly integrated into daily food preparations without ever missing the traditional dairy ingredients.
Array
Keva has an extensive flavour shop for various food and beverage applications, besides a team of expert flavourists and food technologists for creating custom flavours and matches. To partner with us, contact Keva today.

Blog Archive
2021
August (1)
2020
September (1)
August (1)
March (2)
February (2)
January (3)
2019
October (1)
July (1)
May (1)
March (2)
February (2)
January (1)
2018
September (1)
July (1)
May (1)
April (2)
March (2)
February (2)
January (2)
2017
November (2)
October (2)