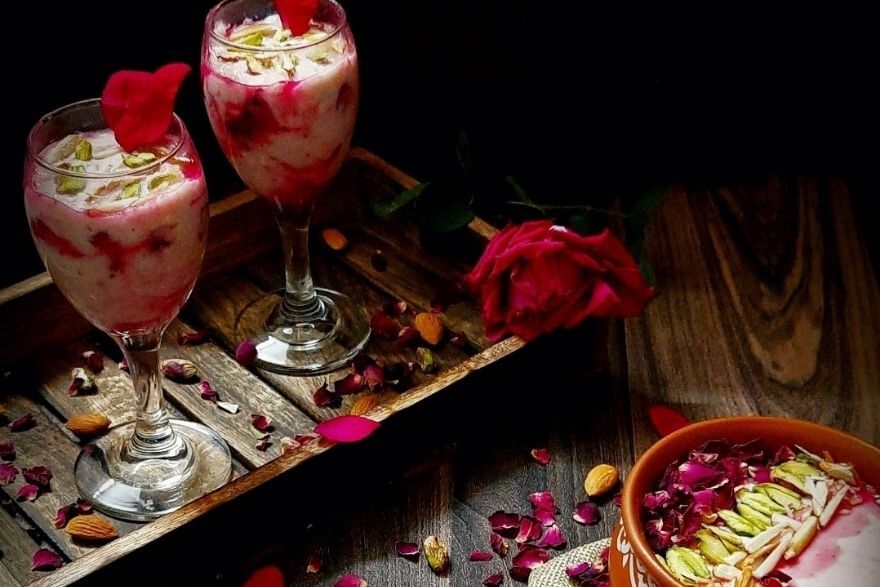 Rose Phirni
Preparation Time: 1 Hour
Cooking Time: 15 to 20 mins
Total Time: 5 hours 20 mins
Serves: 4 to 5
Ingredients:
Small grain rice: 5 Tbspn (Preferred Vishnu Bhog or Basmati Rice)
Milk: 6 cups
Sugar: 1/4th cup or Bowl
Malai or Cream: 1/4th cup
Dry fruits: Almonds, Cashews, Pistachios: 1/4th cup as per your choice
Rose syrup: 1/2 Tbsp
Dry rose petals: As per choice
Directions:
Wash and soaked 5 Tbsp rice in a bowl for 1 hour. Grind it coarsely and keep aside.
Soak almonds and cashews for 15-20 mins and grind them along with malai or cream.
In a thick bottom pan add milk and boil on a medium flame till it reduces to half. Keep stirring in between.
Now add coarsely ground rice while stirring continuously. Let the rice cook completely(till it becomes soft and transparent),keep stirring so that the mixture does not stick to the bottom.
Once the rice becomes transparent add sugar and mix well. Once the sugar is dissolved completely add the malai dry fruits mixture and mix well.
Add Rose flavor and dry rose petals,give them a stir. At this stage if you find the mixture is very thick you can add some warm milk. Finally turn off the flame and stir in the rose syrup.
Mix well and let it cool at room temperature.Once cooled grind the mixture in a blender to smooth consistency.
Pour in the serving bowls or glasses and refrigerate to set completely(Tastes the best when refrigerated overnight).
Garnish with Pistachios,almonds and dry rose petals while serving.