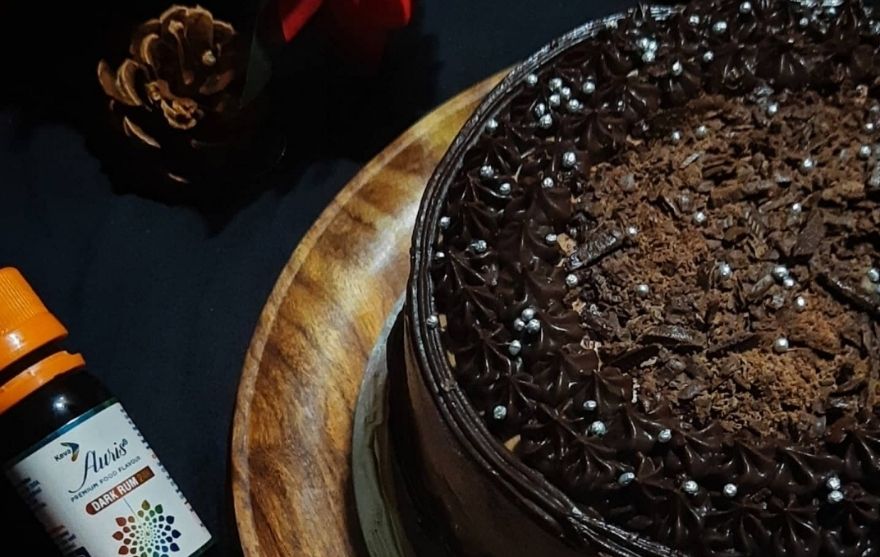 Dark Rum Truffle Nuts Cake
Preparation Time:
Cooking Time: 35-40 mins
Total Time: 35-40 mins
Serves: 1.5 kg
Ingredients:
All-purpose flour/Maida- 1.5 cups
Castor Sugar/Powdered Sugar- 1.5 cups
Cocoa powder- ¾ cup
Curd- 1cup
Oil- ¾ cup
Milk- ½ cup
Baking Powder- 1 Tsp
Baking Soda- ½ Tsp
Fresh cream- 1 cup
Dark Chocolate Compound- 2 cups
Butter- 1 Tbsp (Optional)
Whipped cream- 1 cup
Sliced Nuts(Cashews, Almonds, Walnuts)- ½ cup
Water- ½ cup (Combine to make syrup)
Sugar- ¼ cup
Directions:
For Cake:
In a large bowl combine sugar, oil, curd, baking powder, baking soda.
Mix well till sugar dissolves. Rest for 10 mins.
Add Rum flavour mix well and sieve in Maida and cocoa powder.
Combine well with cut an fold method.
Add milk in batches to acquire the desired consistency. Fold in the nuts at last.
Transfer the mixture in a greased mold and bake at 120 degrees for 35-40 mins in an oven. You can also make this in a kadhai or cooker on low to medium flame for 35-40 mins.
Demold once completely cooled. Slice horizontally into 3 parts.
For Truffle:
Heat 1 cup fresh cream in a thick bottom pan, remove from flame.
Add dark chocolate compound combine till the compound completely melts.
Add butter and combine again. Refrigerate once cooled for 20-25 mins to thicken.
For Filling:
In a bowl take 1 cup whipping cream and whip, add in ½  cup of chocolate ganache when soft peaks are formed and whip till stiff peaks form.
Refrigerate for 15 mins.
Assembly:
Place the first layer of cake, generously apply sugar syrup on the top.
Layer with whip ganache filling. Repeat for the next 2 layers.
Coat the cake with the same and refrigerate for an hour.
Decorate using the refrigerated truffle.