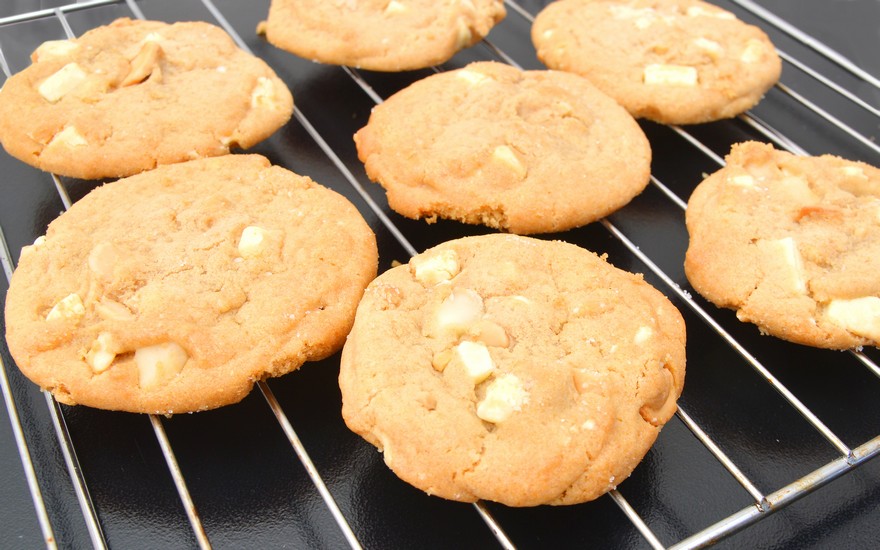 Mango White Choco Chip Cookies
Preparation Time: 15–20 min
Cooking Time: 10-12 min (baking)
Total Time: 25–30 min
Serves: 30-35 cookies
Ingredients:
1/2 cup butter, softened
3/4 cup light brown sugar, packed
1/2 cup white powder sugar
1 large egg
1/2 teaspoon baking soda
1/2 teaspoon baking powder
1 1/4 cups all-purpose flour
3/4 cup white chocolate chips
1/4 cup mango, diced (frozen mango chunks, diced)
Directions:
Start by preheating the oven to a temperature of 180° Celsius.
Add milk powder, sugar and room temperature butter in a bowl. Cream the contents together in the same bowl.
To this prepared mixture, add the egg, Auris 'MANGO 24K' Premium Food Flavour and continue mixing.
Next, add flour, baking powder and baking soda, until all the components are thoroughly combined.
The dough created should have a thicker consistency than normal cookie dough to balance the higher water content in mangoes. Once you add the mangoes, the dough will thin out. You may even need to add 1 1/2 cups of flour to the mix.
Stir in the diced mango (chocolate chip-sized bits) and white chocolate chips by hand into the mixture.
Once the dough is ready, place it in the freezer for 15-20 minutes or in the refrigerator for 15-20 minutes.
Scoop up the chilled dough onto cookie sheets into roughly 1-inch balls, keeping them 2 inches apart. Take care to space them apart without crowding them.
Place the sheets in the oven for 10-12 minutes or until they are barely browned. The cookies may look raw but they continue to cook even once they are out of the oven.
Allow them to warm up on the sheets before you move them to the wire racks or consume them.