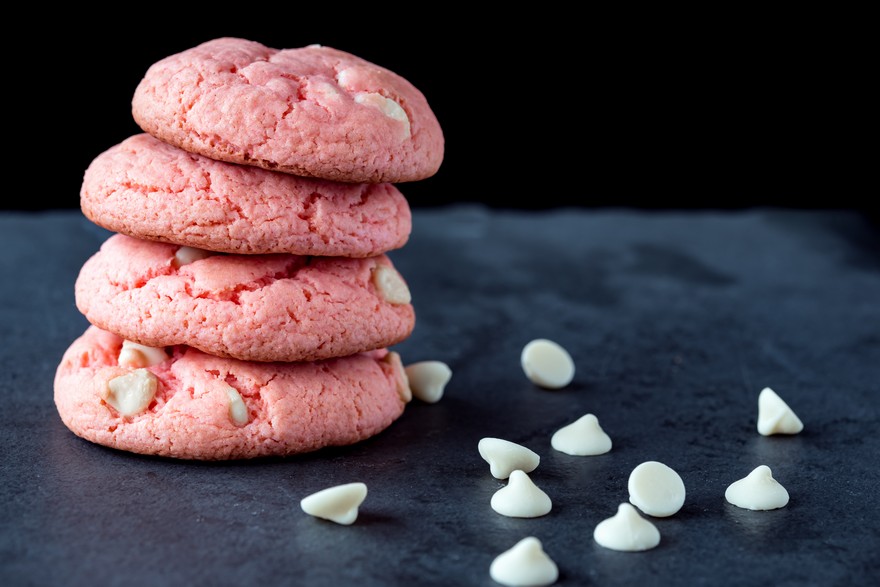 White Chocolate Strawberry Cookies
Preparation Time: 45 min
Cooking Time: 15 min (baking)
Total Time: 1 hr
Serves: 30 cookies
Ingredients:
1 cup refined wheat flour
1/2 cup unsalted butter
1/2 cup granulated sugar
1/2 cup brown sugar
3 big chopped strawberries
1 cup white chocolate chips
1 teaspoon baking powder
1 teaspoon vegetable oil
1/4 teaspoon salt
Pink food colour (optional)
Directions:
Start by preheating the oven to a temperature of 180° Celsius.
Use parchment paper to line the baking sheets.
Use a wooden spoon to cream softened butter, both the sugars and vegetable oil in a bowl, until they are fluffy and light. Make sure the butter is at room temperature before you add it to the bowl.
Next, add the pink food colouring and Auris 'STRAWBERRY 24K' Premium Food Flavour to the mix, at the creaming stage.
In a different bowl of a small size, bring together baking powder, flour, white chocolate chips and salt and mix them.
Now, combine the dry and wet ingredient mix and gently stir in the chopped strawberries.
For 4-5 minutes, knead the dough properly, until there are no lumps.
Place the dough in the fridge to cool for 30 minutes.
Take an ice cream scoop or rounded spoon to scoop out the dough and place the round ball on the parchment paper.
Roll each of the balls smoothly and flatten them slightly before placing them back on the sheet.
Make sure each ball of cookie dough is 2 inches apart.
Place the sheets in the oven and continue to bake until the cookies turn golden.
Once the cookies are done, you can place them on a wire rack or plate to cool.
They stay fresh in a tightly sealed container for up to 6-7 days.