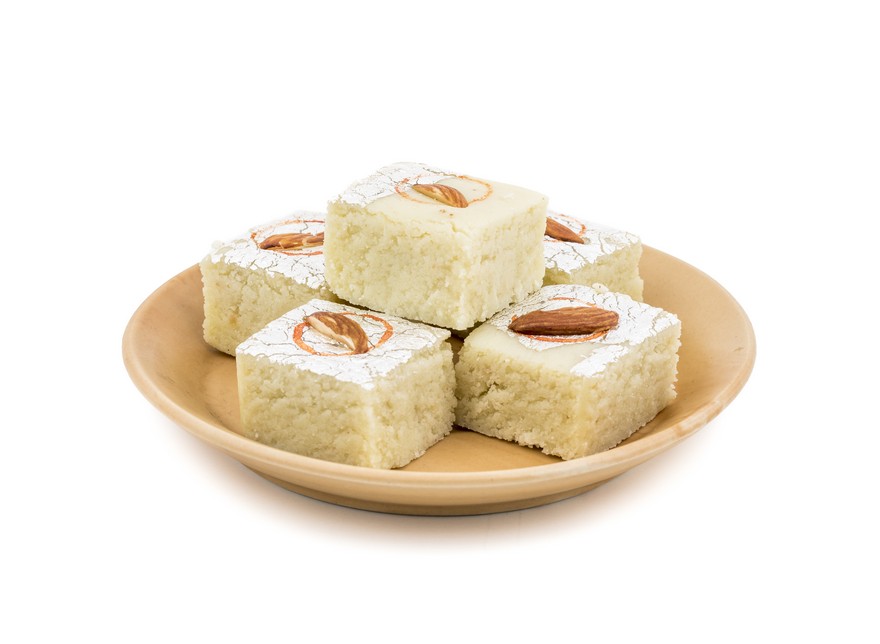 Lemon and Cardamom Barfi
Preparation Time: 20 min
Cooking Time: 15-20 min
Total Time: 40 min
Serves: 10 pieces
Ingredients:
1 tin (400 grams) of condensed milk
Zest of 1 lemon
1/2 tablespoon of lemon juice
250 grams of skimmed milk powder
1/4 teaspoon cardamom seed powder
GARNISH
Silver leaves
Almonds
Directions:
Place a pan over a low flame and add condensed milk, lemon zest and lemon juice. Allow the ingredients to become warm through continuous heating.
Once the mixture is warm, add ground cardamom and skimmed milk powder and mix it well.
Let the mixture heat up until a thick dough has formed.
Switch off the gas and add Auris 'LEMON 24K' Premium Food Flavour to the mixture.
Line a loaf tin or a similar sized tin with parchment paper. Push the dough inside the tin, while keeping the top layer neat.
Let this tin finish cooling either in the fridge or outside to room temperature.
Once the concoction has set, you can cut the tin in the shape of your choice.
Use the silver leaves and almonds as a garnish.
Bring the cake tin to room temperature before taking out the pieces to serve. You can store the cake in your fridge for a period of 2 days.