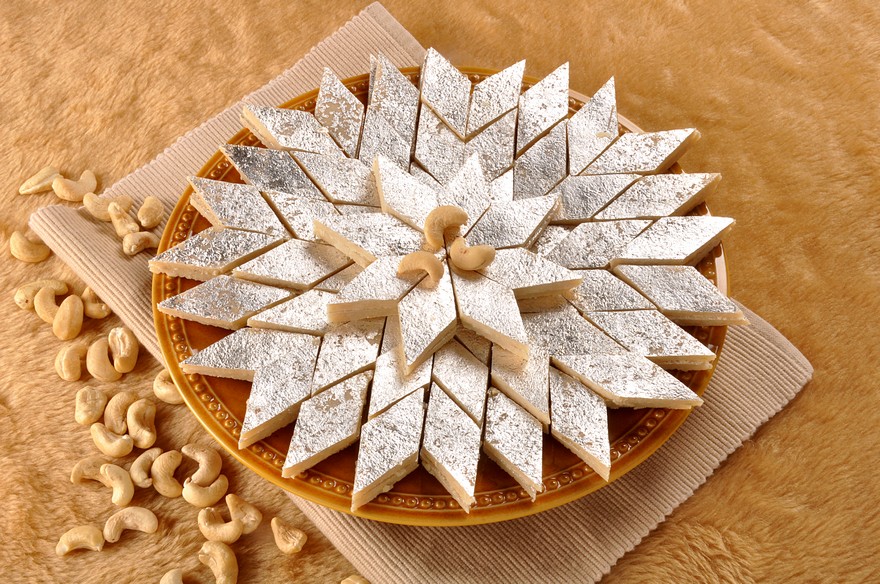 Kesar Kaju Katli
Preparation Time: 6 hr (including soaking time)
Cooking Time: 45 min
Total Time: 7 hr
Serves: 8-10 pieces
Ingredients:
100 grams of cashew nuts
An equal quantity of sugar as cashew after making a paste
2 1/2 teaspoons of ghee
GARNISH
Silver leaves
Directions:
Keep the cashew nuts to soak for 6-8 hours in water.
After the cashews are soaked thoroughly, drain them of the water. Grind the cashews to a smooth and fine paste, without adding water.
Take equal quantity of sugar as the paste. For example, if the paste is 1/2 of a cup, set aside 1/2 cup sugar.
Set a non-stick pan over the flame to melt the sugar.
Next, combine the cashew paste with the melted sugar. Let the mixture cook for a few minutes before adding ghee.
Once the mixture stops sticking to the sides of the pan, add Auris 'KESAR 24K' Premium Food Flavour and mix thoroughly.
Take the mixture and place it on the counter. Slowly knead the mixture into a smooth ball.
Take a plate and apply ghee to grease it.
Taking the same mixture, place it on the plate and use a rolling pin to flatten it.
Use the silver leaves as a garnish.
Lastly, cut out a traditional diamond or any other shape you want.