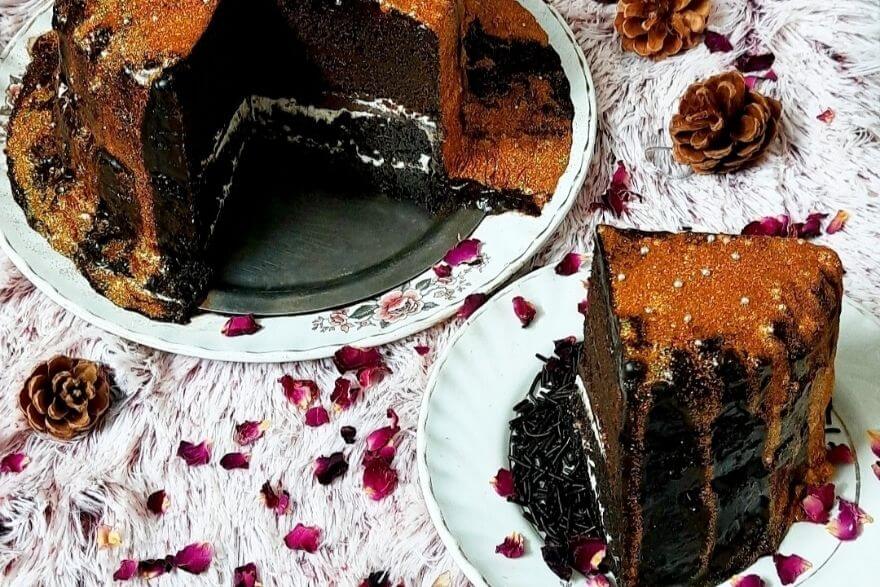 Dark Chocolate Pull me up Golden Glitter Cake
Preparation Time: 20 mins
Cooking Time: 45 mins
Total Time: 2 hrs including cake assembly
Serves: 10 to 12 depending upon the cake quantity
Ingredients:
Maida: 1.5 cups
Cocoa Powder: 3/4th cup
Baking Powder: 1 Tsp
Baking Soda: 1/2 Tsp
Caster Sugar: 1.5 cups
Vegetable Oil: 3/4 cup
Yogurt/Curd: 1 cup
Milk: 1/2 cup
Acetate Sheet
Gold Glitter
Silver Pearls
Directions:
Combine all the dry ingredients, sieve and keep aside.
In a big bowl add vegetable oil, caster sugar and yoghurt, mix well till sugar dissolves. Add chocolate flavour and mix again.
Now add the sieved dry ingredients to the wet mix in small batches and combine well with the cut and fold method. Add milk in small batches to the mixture to achieve the right consistency for the cake batter.
Grease the cake moulds, you can place butter paper in the bottom or even sprinkle Ap flour/maida evenly if you do not have butter paper. Pour the cake mixture till the moulds are 3/4th filled, do not fill completely.
Bake in a preheated oven at 180°c for 30-35 mins or in a cooker or closed kadhai for 35-40 mins on medium flame. Makes 2 cakes.
Let the cakes cool completely. Demould them and cut each in half and keep them aside.
For Chocolate truffle ganache as filling- 150 ml fresh cream and equal amounts of the dark chocolate compound. Heat fresh cream till bubbles appear on the surface, remove from flame and add finely chopped dark chocolate, combine well by mixing vigorously to form a smooth no lumps ganache.
For sugar syrup: Add 1/4th cup water and sugar in equal quantities and bring to a boil.
For the dark chocolate lava- Add half a cup of milk,150 ml of fresh cream to a pan and boil while stirring in between. Now turn off the flame and add 150 gms of the dark chocolate compound and mix well to form a mixture with no lumps.
Vanilla whipping cream: You can use whipping cream or whipping powder the same. If unflavored follow instructions on the pack and add vanilla flavour to it.
Assembly:
Place the first piece of cake over the turntable/on a dish/cardboard, apply sugar syrup and then add generous amounts of vanilla cream. Place the next piece of chocolate cake and repeat the process but for cream first, add a layer of ganache and then vanilla cream on the top. Repeat steps till applying sugar syrup and now layer with chocolate ganache in generous amounts. Add the last piece on the top and cover the cake with a thin layer of chocolate ganache.
Wrap and fix the acetate sheet around. Pour the chocolate lava, add silver pearls and gold glitter in the centre and finally pull the acetate sheet up for the "Pull Me Up" effect.