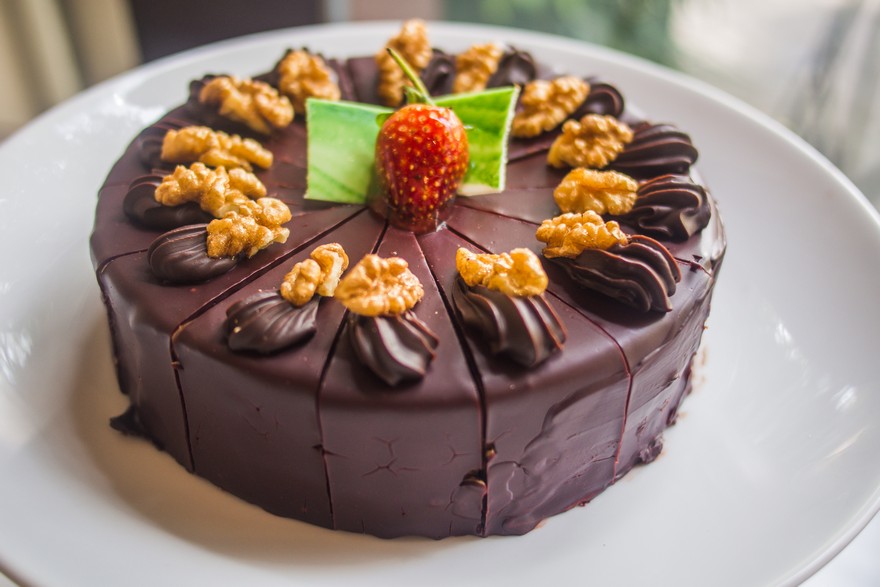 Chocolate Walnut Cake
Preparation Time: 20 min
Cooking Time: 35-45 min (baking)
Total Time: 55-65 min
Serves: 1 Kg
Ingredients:
CAKE
3/4 cup butter, softened
3/4 cup caster (superfine) sugar
3 eggs beaten
1 3/4 cups refined wheat flour
1/2 cup walnuts chopped
1 1/2 teaspoons baking powder
2 tablespoon cocoa powder
CHOCOLATE ICING
3/4 cup margarine, softened
3 1/2 cups icing sugar sifted
1/2 teaspoon Auris™ 'CHOCOLATE 24K' Premium Food Flavour
1 cup walnut halves
½ cup chocolate sauce
Directions:
Line an 8 inch round cake tin with a non-stick parchment or greased greaseproof paper.
Cream the sugar and softened butter together until pale and fluffy.
Gradually beat the eggs into the batter.
Fold in the flour, Auris 'CHOCOLATE 24K' Premium Food Flavour, cocoa powder, baking powder and walnuts.
In the prepared tin, add spoons of the mixture and smooth the surface.
Bake in the centre of moderate oven, 180°C for 35-45 minutes or until the cake feels springy to touch.
Cool the cake by turning it onto the wire rack.
Cut the cake into 2 layers.
Chocolate Icing:
Beat together the margarine, icing sugar, Auris™ 'CHOCOLATE 24K' Premium Food Flavour, chocolate sauce and water until smooth.
Sandwich the cake layers together with some of the icing.
Spread more icing over the top and side of the cake.
Pipe the icing in swirls around the edge of the cake, topping each swirl with a walnut half.