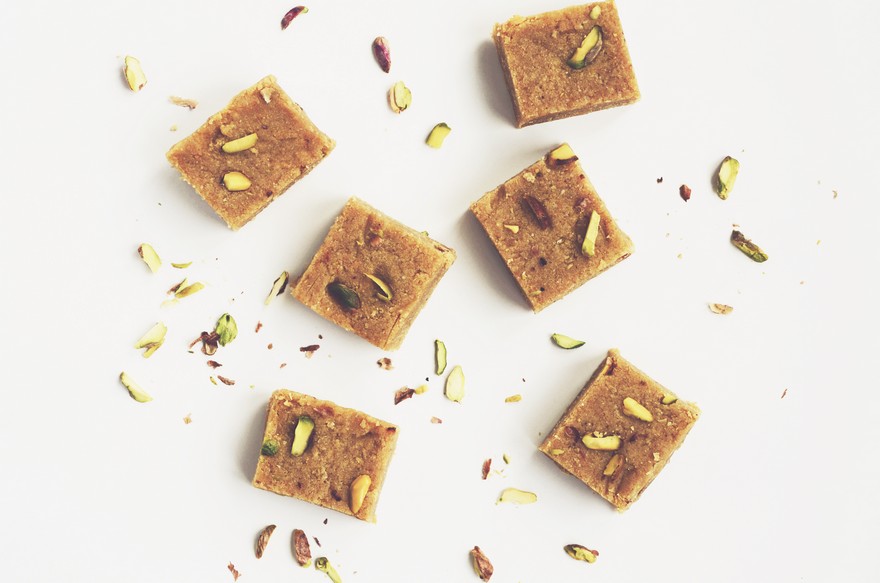 Chocolate Coconut Barfi
Preparation Time: 15 min
Cooking Time: 15 min
Total Time: 1 hr (including freezing time)
Serves: 6-7 pieces
Ingredients:
2 cups of finely grated coconut/ coconut powder
1 cup sugar
2 teaspoons of cocoa powder
1 tablespoon of ghee (for greasing)
GARNISH
Pistachio
Directions:
Place a non-stick pan over a medium flame. Next, add grated coconut to the pan.
Allow the coconut flavour to seep out as you sauté. Make sure the coconut does not turn brown.
Next, add the sugar and condensed milk to the coconut. Continue sautéing for 5 minutes until the mixture forms a ball.
Add cocoa powder and Auris 'CHOCOLATE 24K' Premium Food Flavour to the ball, mixing it as you add.
Turn off the flame.
Grease a plate with ghee. Pour the burfi mixture on the plate.
Pat the mixture tightly with your hands. Place the mixture in the refrigerator for half an hour or until it becomes firm.
Using a buttered knife, cut out traditional diamond shapes or square shapes from the burfi mixture.
Sprinkle chopped pistachio over the burfi before you serve.