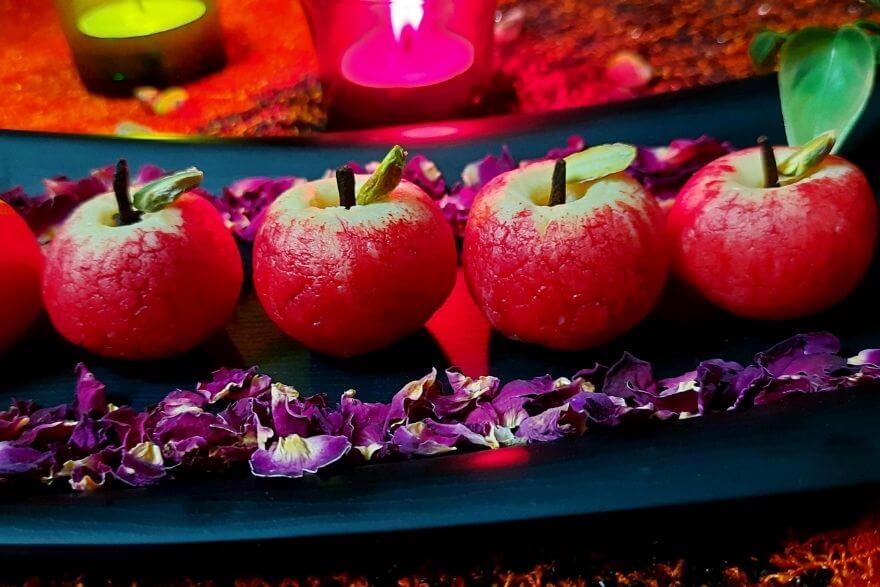 Apple Kesar Barfi
Preparation Time: 15 mins
Cooking Time: 15 mins
Total Time: 30 mins
Serves: 9 to 10
Ingredients:
Grated Fresh Paneer: 3/4th cup
Milk Powder: 1/2 cup
Sugar: 1/2 cup
Water: 1/2 cup
Milk: 1/4th cup
Ghee: 1 Tb spn
Dry fruits: Pistachios
Cloves: 9 to 10
Red food color
Directions:
In a thick bottom non-stick pan add sugar and water and boil till it achieves a half strand syrup consistency.
Add grated paneer, stir well.
Now add milk and stir the mixture till it achieves a creamy consistency.
Add milk powder and keep stirring it to avoid any lumps.
Make sure you keep flame on low so that the mixture does not stick to the bottom.
Keep stirring the mixture until it separates completely from the pan and becomes of a soft dough consistency.
Turn off the flame and add ghee as well as Kesar flavor to the dough and mix well. Transfer it into a bowl.
Apply some oil on your palms and make equal sized balls out of the dough, press on the top bottom and sides to give them the shape of apples.
Make sure you make them when they are hot to give them a perfect shape(You can wear hand gloves while making them) Color them red with small paint brush and garnish with cloves and pistachios.