Enkap - Encapsulated Powder Flavours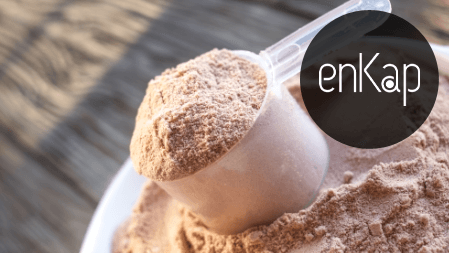 Our specialised encapsulated powder flavours protect the volatile and delicate molecules that are present in flavouring compounds. Encapsulated flavour powder ensures excellent flavour stability and controlled release, thereby minimising flavour degradation during the manufacturing, storage and distribution process.
Advantages of Enkap
1
Encapsulated Powder Flavours are engineered for a slower and desired release of flavour
2
Encapsulation acts as a barrier to prevent evaporation & degradation of aroma
3
Finely-powdered flavour material, coated or entrapped to keep the flavours locked and stable
4
Customisable particles to match requirements for specific applications
5
Better thermodynamic stability reducing the need for the introduction of higher doses of flavours
6
Retains aroma protecting from unpleasant interactions, oxidation & evaporation during storage
7
Comes with Cost-in-use benefits
Enkap's unique specialties
Particle size ranges from 70-300 microns
Instantly soluble in water
Stability up to 18 months
Halal & Kosher certifiable
Best suited applications
Powder Soft Drinks
Health Food Drinks
Dry Premixes
Ideal for pharmaceutical products
Chewable Tablets
Effervescent Tablets
Dry Syrups
ORS Powders
Nutraceutical Products
Request a sample
Keva is a leading food flavouring powder manufacturer offering an extensive range of encapsulated powder flavours with the latest state-of-the-art technology for best-in-class results. With approximately 3000+ food and beverage flavours in our library and extensive inventory stock, we can deliver sustainable powdered flavouring solutions with the best of quality to all our customers.
Contact Us